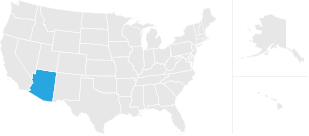 Overview of Arizona Mortgages
Home to the Grand Canyon and other iconic sites of the American Southwest, Arizona is a diverse state with a growing population. In recent years, Arizona mortgage rates have tended to be slightly above the national average. No Arizona counties have conforming loan limits above the baseline $417,000 limit.
Today's Mortgage Rates in Arizona

| Product | Today | Last Week | Change |
| --- | --- | --- | --- |
National Mortgage Rates
Source: Freddie Mac Primary Mortgage Market Survey, SmartAsset Research
Details
Purchase or Refinance
Select Purchase or Refinance
Dismiss
Location
Enter your location
Dismiss
Target Home Value
Enter target home value
Dismiss
Down Payment
Enter down payment
Dismiss
Current Home Value
Enter current home value
Dismiss
Current Mortgage Balance
Current Mortgage Balance
Enter current mortgage balance
Dismiss
Credit Rating
Select Your Credit Rating
Dismiss
Lock In A Low Mortgage Rate Today!

We offer low rates. No points. No hidden fees.

Get the right rate and loan for your needs

Our Home Loan Experts can help you today.
​If you could change one thing about ​this page what would it be?​
Thank you for your answer! Your feedback is very important to us.
We are working hard to improve our product and could use your help!
We pay $30 for 30 minutes on the phone to hear your thoughts on what we can do better.
Please enter your email if you'd like to be contacted to help.
| | | | |
| --- | --- | --- | --- |
| | | | |
| Please enter your name | Please enter a valid email | | |
Photo Credit: ©iStock.com/CochiseVista

Arizona Mortgage Rates Quick Facts

Median Home Value: $207,300 (Zillow)
Loan Funding Rate: 61.7%
Average Mortgage Rate: 4%
Homeownership Rate: 61.7% (St. Louis Fed)
Average Annual Mortgage Payment: $9,501
Historical Mortgage Rates in Arizona
Arizona's housing market was hit hard by the housing crisis but has since begun to rebound. It's one of the fastest-growing states in the nation and there is robust demand for housing. Arizona annual average mortgage rates have been the same or slightly higher than the national average since 1997. 2016 Arizona mortgage rates are on average lower than 2015 Arizona mortgage rates.
<!—- Chart 1 — Historic Arizona Mortgage Rate Chart -—>
Arizona Historic Mortgage Rates
| | | |
| --- | --- | --- |
| Year | Arizona Rate | U.S. Rate |
| 1982 | 14.34 | 14.73 |
| 1983 | 12.08 | 12.26 |
| 1984 | 12.04 | 11.99 |
| 1985 | 10.98 | 11.17 |
| 1986 | 9.69 | 9.79 |
| 1987 | 8.85 | 8.95 |
| 1988 | 8.92 | 8.98 |
| 1989 | 9.82 | 9.81 |
| 1990 | 9.95 | 9.74 |
| 1991 | 9.18 | 9.07 |
| 1992 | 7.83 | 7.83 |
| 1993 | 6.98 | 6.93 |
| 1994 | 7.04 | 7.31 |
| 1995 | 7.29 | 7.69 |
| 1996 | 7.54 | 7.58 |
| 1997 | 7.56 | 7.52 |
| 1998 | 7.05 | 6.97 |
| 1999 | 7.24 | 7.14 |
| 2000 | 7.99 | 7.86 |
| 2001 | 7.00 | 6.94 |
| 2002 | 6.51 | 6.44 |
| 2003 | 5.72 | 5.67 |
| 2004 | 5.73 | 5.68 |
| 2005 | 5.86 | 5.85 |
| 2006 | 6.57 | 6.54 |
| 2007 | 6.46 | 6.42 |
| 2008 | 6.12 | 6.06 |
| 2009 | 5.15 | 5.05 |
| 2010 | 4.81 | 4.81 |
| 2011 | 4.63 | 4.56 |
| 2012 | 3.73 | 3.65 |
| 2013 | 3.85 | 3.84 |
| 2014 | 4.18 | 4.13 |
| 2015 | 3.91 | 3.88 |
Arizona Mortgages Overview
If you're shopping for a mortgage in Arizona you should be able to find a bargain, depending on what kind of home you need. After the state's real estate bubble burst, prices dropped significantly in many parts of Arizona. That makes it easier for first-time homebuyers to break into the housing market in Arizona and shortens the time needed to save up for a down payment.
<!—- Chart 2 Mortgage Rates for Single-Family Homes, Townhouse, Condos -—>
Arizona Mortgage Rates
Single-Family Homes
Percentage of Homes
78.10%
Average Property Value
$140,439.30
Condominiums
Percentage of Homes
7.50%
Average Property Value
$150,214.87
PUD Homes
Percentage of Homes
10.30%
Average Property Value
$142,503.33
Townhomes
Percentage of Homes
4.10%
Average Property Value
$121,347.89
There are no Arizona counties that have a conforming loan limit over the standard $417,000 limit. That's an indication that home prices in Arizona are on the low side. In expensive parts of the country where home prices are high, the conforming loan limit may be over $417,000.
What's a conforming loan, you ask? It's a loan that can be sold on the secondary market. A loan that exceeds the conforming loan limit is considered a jumbo loan, and will generally come with a higher interest rate.
<!—- Chart 3 — ConformingFHA Loan Limits -—>
Conforming and FHA Loan Limits by County
| | | |
| --- | --- | --- |
| County | Conforming Limit | FHA Limit |
| Apache | $417,000 | $271,050 |
| Cochise | $417,000 | $271,050 |
| Coconino | $417,000 | $362,250 |
| Gila | $417,000 | $271,050 |
| Graham | $417,000 | $271,050 |
| Greenlee | $417,000 | $271,050 |
| La Paz | $417,000 | $271,050 |
| Maricopa | $417,000 | $271,050 |
| Mohave | $417,000 | $271,050 |
| Navajo | $417,000 | $271,050 |
| Pima | $417,000 | $271,050 |
| Pinal | $417,000 | $271,050 |
| Santa Cruz | $417,000 | $271,050 |
| Yavapai | $417,000 | $271,050 |
| Yuma | $417,000 | $271,050 |
The Arizona housing market includes a high number of foreclosure properties. If you're comfortable buying a foreclosure you may be able to get a great deal on a home in Arizona. However, you'll need to be prepared to pounce on a listing that appeals to you. If you wait too long to make an offer the home will probably be snapped up by another buyer. Foreclosed homes move quickly on the Arizona mortgage market.
In general, buyers who can offer cash will be given precedence over those who need to finance their home purchase. And because time is tight on the foreclosure market, there probably won't be a back-and-forth negotiation, which means low-balling your offer can backfire. Rather than reach out to you and negotiate, the bank may simply give the home to someone else. It's also important to pay attention to the details of foreclosure listings. Some homes are sold as is, which means that any needed repairs resulting from the home inspection will be the financial responsibility of the buyer, not the bank.
30-Year Fixed Mortgage Rates in Arizona
Unless you're gifted a home or you pay cash for your home (which is easier to do when it's a low-price foreclosure) you'll likely have to get a mortgage to buy a home in Arizona. Most homebuyers opt for a 30-year fixed-rate mortgage. It's the Old Faithful of mortgages. You have plenty of time (30 years) to pay back the loan and your interest rate won't change unless you decide to refinance your mortgage.
The average Arizona mortgage rate for fixed-rate 30-year mortgages is 3.69%.
Arizona Jumbo Loan Rates
In most counties, a home loan that's $417,000 or less is a "conforming loan." A mortgage that's over the conforming loan limit in a given county is considered a jumbo loan. Jumbo loans have higher interest rates than conforming (read: normal) loans. The higher interest rates that come with jumbo loans are another good reason to buy a home that's well within your budget so you don't have to borrow such a hefty sum.
The average Arizona jumbo loan rate is 3.9%.
Arizona ARM Loan Rates
Adjustable-rate mortgages come with an introductory interest rate that's often lower than the going rate for fixed-rate mortgages. So, if you're planning to buy a home and live there for a short time, the ARM can be a good option because you can take advantage of the low introductory rate. They're more popular with people who plan to flip the home they're buying, or who plan to move on once they start a family.
The risk, however, is that you might still be in the home when the interest rate adjusts and your monthly mortgage payments increase after the introductory period ends. An ARM that becomes too expensive is a common reason people become delinquent on their mortgage and, in some cases, face foreclosure. Before you commit to an ARM it's important to be clear on how long the introductory period will last (generally between 1 and 10 years) and what the maximum allowed interest rate increase is for the life of the loan.
The average rate for an ARM in Arizona is 3.33%.
Arizona Mortgage Resources
Need a little help turning your Arizona homebuying dreams into reality? The Arizona Housing Finance Authority (AzHFA) has resources that can help you with your mortgage. One resource is the "HOME Plus" Home Loan Program. It's a program that offers 30-year fixed-rate mortgages at low rates, with down payment assistance that can be put toward closing costs or your down payment. Depending on the loan type you choose (Fannie Mae, Freddie Mac, FHA, USDA, VA) and your credit score, the down payment assistance can be between 2 and 5% of the loan amount.
The program puts limits on the loan-to-value ratio of the homes you can buy. That ratio is the amount of the mortgage divided by the sales price. It can't be lower than 95%. There are also geographical restrictions. The program is not available in Pima County, and the FHA, USDA and VA versions of the program aren't available in Maricopa or Pima County. To take advantage of the program you must work with a HOME Plus participating lender.
<!—- Chart 4 — Available Resources —->
Available Resources
| | | | |
| --- | --- | --- | --- |
| Resource | Problem or Issue | Who Qualifies | Website |
| Arizona Department of Housing | Offers down payment assistance, 30-year fixed-rate mortgages at low rates and mortgage credit certificates for those who refinance. | Homebuyers purchasing primary residences with a purchase price equal to or below $371,936. | https://housing.az.gov/finance-authority/home-plus |
| Save Our Home AZ Program | Offers principal reduction assistance, mortgage subsidy assistance, second lien elimination and short sale assistance. | Homeowners with owner occupied, primary residences. | https://housing.az.gov/save-our-home |
| Home Affordable Refinance Program | Refinancing. | Single family homes and condos that fit within lending loan limits. | http://www.harp.gov/ |
| HUD Approved Housing Counseling Agencies | Mortgage delinquency and resolution counseling; pre-purchase homebuyer education; rental housing counseling; reverse mortgage counseling. | Homebuyers and owners who meet specific program qualifications. | http://www.hud.gov/offices/hsg/sfh/hcc/hcs.cfm?webListAction=search&searchstate=AZ |
AzHFA also offers a Mortgage Credit Certificate to qualified homeowners. The credits provide a dollar-for-dollar reduction of your federal income tax liability. If you're eligible and you obtain an MCC you'll see that reflected on your tax return (either a smaller bill or a bigger refund). Alternatively, you can fill out a new W-4 Form with your employer and indicate that you have the credit. Your employer will then withhold less money from each of your paychecks, giving your budget an immediate boost.
If you're already a homeowner and you're behind on your mortgage payments or at risk of foreclosure you can call the state's toll-free line for free counseling. To help you lower your monthly payments you can apply for the federal government's Home Affordable Refinance Program through a participating Arizona lender.
You can also apply for the Save Our Home AZ Program, which offers principal reduction assistance, monthly mortgage subsidy assistance for under- and unemployed Arizonans, second lien elimination and short sale assistance to qualified homeowners in the state. The program provides the assistance directly to your lender on your behalf, so your lender must agree to participate.
If you need help navigating the above programs or getting ready for homeownership you can contact one of the HUD-approved housing counselors in Arizona.
Arizona Mortgage Taxes
In Arizona, you can deduct your mortgage interest from your state income taxes, even if you didn't itemize your deductions and deduct your mortgage interest when you filled out your federal income tax return. If you did itemize and deduct your mortgage interest on your federal return you can get a "double deduction" when you fill out your state income tax return.
If you sell your Arizona home you won't pay real estate transfer taxes but you will pay a flat fee of $2 per deed or contract.
Arizona Mortgage Refinance
When it's time to refinance your Arizona mortgage you don't have to go with the same lender you used the first time around. Feel free to shop around for a better deal. If you refinance your mortgage and you previously received a Mortgage Credit Certificate, you must re-apply for a new MCC after closing your refinance mortgage. And the same non-profit, HUD-approved counselors who can help Arizonans with a home purchase can also help Arizonans navigate the refinance process. Don't forget that closing costs are due on completion of a refinance so you'll need to budget for this extra expense.
See Mortgage Rates in These Other States
Best Places To Get A Mortgage
SmartAsset's interactive mortgage map highlights the best counties in the country (and in each state) for securing a mortgage. Hover over counties and states to see data points for each region, or use the map's tabs to view the top counties for each of the factors driving our analysis.
Methodology For many people buying a house means securing a mortgage. To determine the best places in the country to get a mortgage we looked at four factors: overall borrowing costs, ease of securing a mortgage, cheap property taxes and cheap annual mortgage payments.
To calculate the overall borrowing costs, we looked at the expected costs over the first five years of a $200,000 mortgage with a 20% down payment, including closing costs. We calculated the ease of getting a mortgage as the ratio of mortgage applications to actual mortgage originations (secured mortgages) in each county. We based annual mortgage payments on the annual principal and interest payments for a $200,000 loan in that location, using average mortgage rates in each county.
Finally, we ranked locations based on these four factors, and then averaged those rankings, giving equal weight to each factor. The areas with the lowest average rankings are the best places to get a mortgage.
Sources: Mortgage Bankers Association, US Census Bureau 2015 5-Year American Community Survey, Informa, Bankrate, government websites, SmartAsset